M&M HONDA OEM REINFORCED CLUTCH PEDAL FOR CIVIC FD2 Mugen RR 00108-FD2-ST01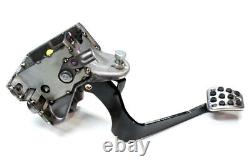 M&M HONDA Genuine OEM REINFORCED CLUTCH PEDAL FOR CIVIC FD2 Mugen RR. Due to the insufficient strength of the bracket at the clutch pedal mounting part, if you continue to use it for many years, you will hear a creaking noise every time you step on the clutch. In addition, the reinforced clutch cover and the lack of strength due to the mounting of the disc cannot be withstood by the frame of the genuine clutch pedal, and even in circuit driving where quick clutch meet and delicate clutch work are required, clutch operation by hard shift change It may not be able to withstand the excessive load of the bracket, and the weak part of the bracket body may be distorted and eventually cracked.
In this reinforced clutch pedal, the bracket body is reinforced using a three-dimensional molded 2 mm thick steel material, and each part is welded to maintain the strength to withstand the weight of the reinforced clutch and rough clutch work. The reinforced clutch pedal is a reinforced frame, so the touch does not become heavy. The fluffy and unreliable clutch work by clutch operation is reinforced.
By replacing the clutch pedal with a reinforced clutch pedal, the moment when the clutch is engaged is easy to understand, and the clutch meet can be done smoothly and easily with a very good feel. The sound from the master cylinder due to a defective master cylinder will not disappear unless the master cylinder is replaced. Reinforced When the clutch pedal is replaced, the clutch pedal frame part will be strengthened, so there will be no part where the sound was missed due to the weakness or distortion of the frame, and the direct echo may be louder.
In that case, please replace the master cylinder as soon as possible. For installation, remove the genuine clutch pedal body and replace it with a reinforced clutch pedal. The bush pedal pin has also been reinforced and incorporated into the reinforced clutch pedal.
The red part of the image is the enhanced part. The product is red and not painted. Images are for illustration purpose only. Please be sure to read it!
In the case of build-to-order manufacturing, it may take several months to deliver. Please check the model number and part number of the vehicle before purchasing. We sell Genuine new and used goods and many are being exhibited.
And please pay within 3 days, otherwise the unpaid case will be opened automatically. If you do not check, damage or damage may not be compensated. We can accept return within 30 days after you receive it.
Please understand these charges are the buyers responsibility. I run a car parts shop in Japan! Although not exhibited, we also handle tuning parts manufacturers (HKS TRUST TODA TEIN TOMEI BLITZ OSGIKEN TOMS and others).